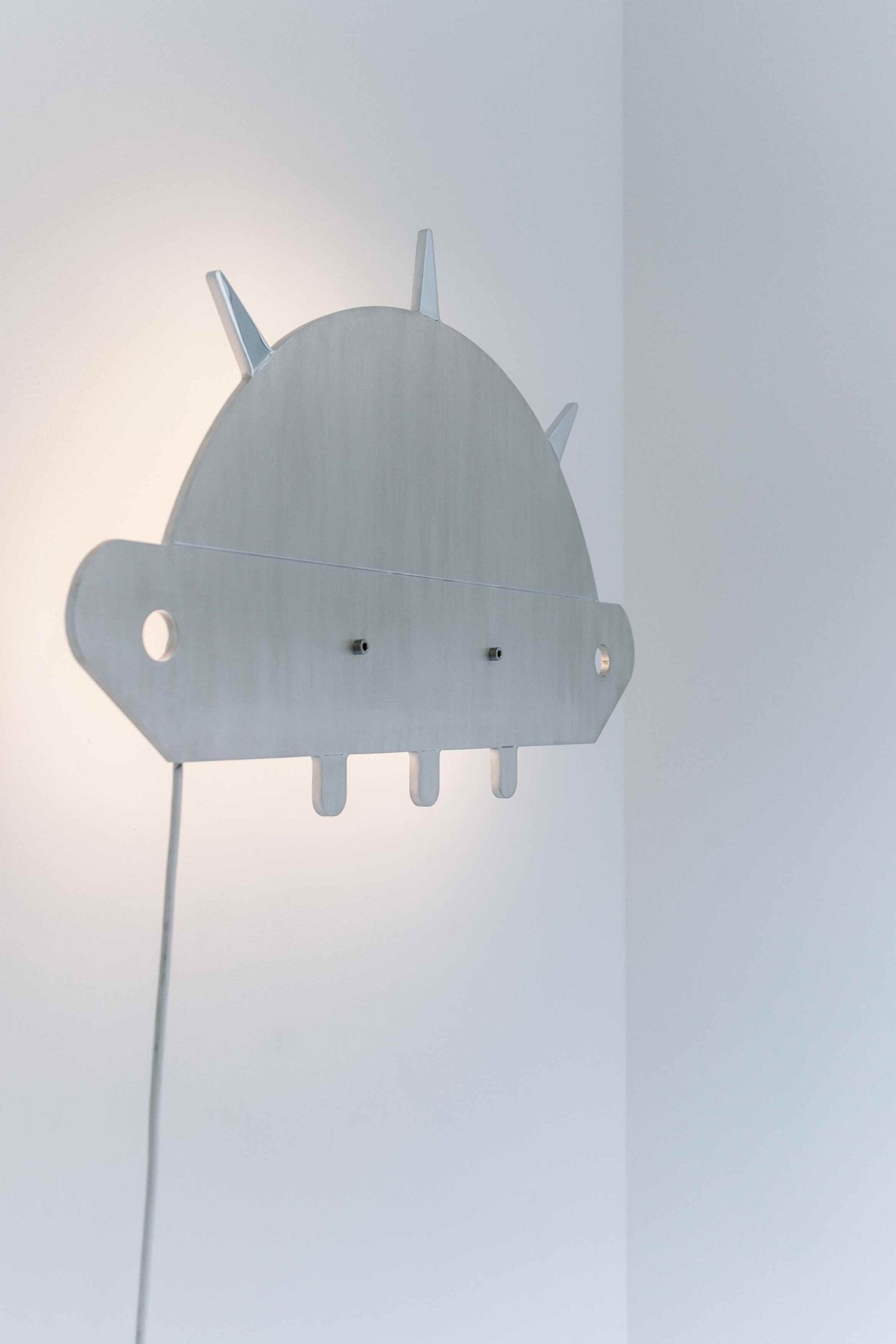 5779. 11/12 – Alice Ronchi
01.08.2019 – 29.08.2019
Alice Ronchi
Ufo, 2019
aluminum, stainless steel
52 x 86 x 17 x cm
"Ufo is a family of aluminum 'bi-dimensional sculptures' born from a series of free hand drawings featuring a bizarre variety of flying saucers (UFO stands for unidentified flying object) and inspired by the aesthetic imagery of such objects in the 1950s. I drew these forms with a gesture that is short and instinctive, I imposed to myself not to consult any visual reference before I started this entire series of drawings, therefore trying to work and source from what was my personal and imaginary UFO – my interpretation; this aspect has always fascinated me due to the fact that nobody (almost) ever saw these objects but everybody has his or her own personal visual interpretation of their particular 'physiognomy', their silhouette" – Alice Ronchi.
BUILDINGBOX is an independent space within the premises of BUILDING, characterized by its own unique program. The opening project, curated by Nicola Trezzi, opens on the week of Rosh Ha Shana, which is the beginning of the new year – the year 5779, as the title says – according to the Hebrew calendar.
Following these premises, a window gallery which is visible 24/7, and a calendar which consists of 13 months: 5779 is a leap year (Nisan, Iyar, Sivan, Tammuz, Av, Elul, Tishrei, Marcheshvan, Kislev, Tevet, Shevat, Adar Alef and Adar Beth), 5779 is a group exhibition in which several artworks are not presented next to each other but rather one after the other. The structure of the calendar – day after day, month after month, year after year – becomes the guideline for the presentation of artworks by several artists; in doing so, this structure transforms the essence behind group exhibitions, from coexistence and juxtaposition to linearity and procession.
Furthermore, this specific format deconstructs the very core of the group exhibition format, which is, by definition, an exhibition in which several artworks, by several artists, are presented next to each other in a confined space and for a specific amount of time. With 5779 the idea of a group exhibition in which works of art by several artists appear, in the same space, one after the other – substituting one another, replacing one another – suggests an inversion in the equation at the base of exhibition making. Rather than rooting exhibition making into space, as it usually happens, this time the exhibition is rooted in time rather than space.
To reinforce the predominance of time over space, a complete overturning of exhibition making and of its premises, is the decision to display artworks that are not only on view 24/7 but also that are 'fed' by electricity – neon signs, works with light bulbs, videos, etc. –, works that are independent sources of light, "small suns" (although the Hebrew calendar is not purely solar but "lunisolar") giving the rhythm of time.
Artisti