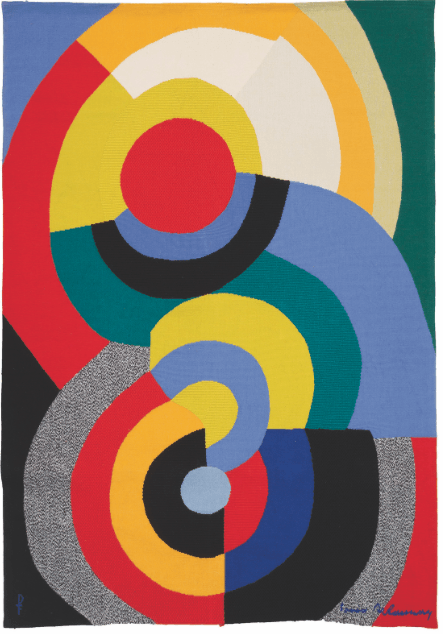 Mīror. The Ladies' Room and textiles by female artists of the twentieth century
04.04.2019 – 15.04.2019
VENUE
Gallery Moshe Tabibnia
www.moshetabibnia.com
Via Brera 3, Milan
Tues – Sat, 10 am – 7 pm
Extra opening hours
Sunday 7 April, 10 am – 3 pm
Monday 8 April, 1 pm – 7 pm   5PM cocktail at the presence of the artists
Sunday 14 April, 10 am – 3 pm
4 Apr 2019 – 15 Apr 2019
Mīror
[to be astonished at, to wonder at, to be amazed by, to admire, to contemplate with respect.]
From the 4th to the 14th of April BUILDING presents Miror, a project by the Design Collective The Ladies' Room – Ilaria Bianchi, Agustina Bottoni, Astrid Luglio, Sara Ricciardi – designed for the spaces of the Gallery Moshe Tabibnia and realized in collaboration with the Moshe Tabibnia Research Centre. For the second consecutive year, on the occasion of MiArt and the Salone del Mobile, BULIDING continues his collaboration with The Ladies' Room, whose work is based on the sharing of collaborative, multidisciplinary, experimental and fluid experiences, which lead to a consideration on contemporary Design.
Mīror is an installation of three reflective sculptures based on a study of image, optical illusions and altered perceptions. Mīrorexplores the specific moment in which one is captivated by a form, a detail, a reflection or one's own image. Visitors are invited to engage with the space, gravitate around the object presented to take a look at themselves and reconstruct their own portrait, admire the sculptures from different perspectives and then be absorbed by the installation once more. Three mirrors, but also three empty spaces and three geometrical forms, to experience and discover from different angles.
Mīror is a new project that dialogues with a selection of textile works created by various twentieth century female artists, chosen by The Ladies' Room in collaboration with the Moshe Tabibnia Study Center. Following the publication Intrecci del Novecento. Tapestries and carpets by Italian artists and manufacturers, and the exhibition of the same name staged at the Triennale di Milano (October 2017), the Gallery Moshe Tabibnia now presents some of the most significant twentieth century works in its collection.
Reflected in the mirrors designed by The Ladies' Room, visitors will be able to admire the colorful swirls of the refined French tapestries by Sonia Delaunay, the rugs by YvonneFourgeaud, the vibrant patterns of the carpets by Nathalie Du Pasquier, the Futurist fabric inlays by Beatrice Santiccioli and the poetic small-scale compositions of Niki Berlinguer and Anna Maria Del Drago.
Biographical notes
The Ladies' Room is a collective that was founded in Milan in 2016 by Ilaria Bianchi, Agustina Bottoni, Astrid Luglio and Sara Ricciardi.
They combine their independent design work with a shared vision of a collaborative venture that is multidisciplinary, experimental and fluid. Their projects create scenarios that are both contemplative and tangible, and use local craft materials and techniques to design symbolic paths for people to explore. The Ladies' Room works with design studios, galleries, companies and private clients and their projects range from one-off pieces to installations and curation projects. In 2018, they presented "In itinere", a four-storey installation created in collaboration with BUILDING of Milan. Their project Fènomena(2017), sponsored by Distretto 5Vie, was selected by the Milan Design Award as one of the 40 best exhibitions at the Salone del Mobile.
Niki Berlinguer (1905-1994) was undoubtedly one of Italy's leading figures in twentieth-century textile art, and her oeuvre blends artisanal skill with modern artistic languages. Her distinctive wall panels in petit point embroidery, first exhibited in 1957, forge a dialogue with the work of contemporary painters: from Afro to De Chirico, Fontana to Guttuso and many more. In the period when the most important Italian tapestry companies were reproducing the works of great contemporary painters, Niki Berlinguer stood out for "interpreting" rather than just simply "translating" these artworks, and for raising the profile of what was then a little known, little used technique (that of petit point). Niki looked to paintings as her source material, focusing on the essence of each piece before recreating it by giving free rein to her own inspiration.
Intensely creative, she not only interpreted the works of others, but also produced her own compositions.
Anna Maria Giovanrosa (1939), wife of the painter Francesco del Drago, began her artistic career in Paris in the 1960s. Keenly interested in the petit point technique, her first textile compositions were inspired by the works of artists such as Guttuso, Dorazio, Klee and Calder. Her husband's paintings had a strong influence on her work: post-impressionist "decompositions", the colors used by the Fauves and the works of Sonia Delaunay are recurring motifs in her pieces.  After working in petit point, Anna Maria began weaving on a loom, no longer basing her work on that of other artists but creating her own compositions inspired by the countryside of Filacciano near Rome: landscapes, flowers, woods and sunsets depicted behind stylized mountains.
The cartoons she worked on in her studio served as initial source material for the final creation. Like an authentic impressionist artist, Anna Maria worked outdoors, following nature and its constant changes as she wove her yarns. The exhibition features a tapestry based on a design specially created for her by Renato Guttuso: I tetti di Velate, 1968.
Sonia Terk Delaunay (1885-1979) is beyond question one of the among the most original artists in the field of textile art. Of Russian origin, she studied art in Paris and played a fundamental role in twentieth century applied arts, becoming a leading innovator in fashion, design and textile art in general. The wife of the artist Robert Delaunay, before devoting herself purely to textile art, Sonia experimented widely with painting, with a key focus on color ("simultanisme"). She first became interested in textiles in 1911, after making a blanket for her first baby: a patchwork of snippets of various fabrics. From then on she worked with textiles as her medium of artistic investigation, producing curtains, cushions, embroidery, clothes, fabrics and carpets in the studios she set up in Spain and France. She is undoubtedly best known for her tapestries. In the late 1960s she embarked on an enduring collaboration with Atelier Pinton / Felletin, creating a series of tapestries based on 27 cartoons she created herself. Her tapestry work was the outcome of a creative process: not an interpretation of a painting transferred onto a different medium, but a unique creation whose essence sprang directly from the potential of her chosen material, woven wool.
Renowned designer and co-founder of the Memphis group, Nathalie du Pasquier (1957) has always had a deep interest in textile art, and carpets in particular, which she views as the heart of a home, capable of creating a tactile, inviting haven. As a child she would spend hours tracing the patterns on the carpets in her home, and idea of designing her own carpets came about during a trip to Tunisia in 1982. Her first experiments were two carpets for Memphis, and subsequently she worked closely with Atelier d'Arte Tessile Elio Palmisano, designing a collection with her partner and fellow designer George Sowden.
Beatrice Santiccioli (1961), a celebrated painter based in San Francisco, entered the world of international design very young, presenting her original creations. She first encountered textile art in the early 1990s thanks to the Atelier d'Arte Tessile Elio Palmisano. Their collaboration gave rise to Gli arazzi della nuova Era, a series of works inlaid with different fabrics, finished with cordonette yarn in filling stitch, long and short stitch and satin stitch. Crafted using various kinds of fabric, from satin to canvas, and mounted on a support in canvas or other material, they create the effect of mosaic tiles. The inspiration for these pieces came mainly from the techniques used by Casa d'Arte Depero, perfected with the use of sophisticated artisanal technologies.
French painter and designer active mainly during the 1920s, Yvonne Fourgeaud (1889-1987) designed carpets for some of the most important manufacturers of the era. In the period when department stores began focusing on carpets as a source of fresh inspiration in interior design, setting up collaborations with major contemporary designers, Yvonne Fourgeaud was one of the leading, most sought-after names. In 1927 the Grands Magasins à la Place Clichy (the time-honored Parisian department store founded in 1882, specialized in furnishings and oriental rugs in particular) commissioned a collection of twelve hand-made carpets based on drawings by the key players in the French design world, including Yvonne Fourgeaud, Jacques Vergé, Francis Jourdain and Edouard Bénédictus. The French manufacturer Lucien Bouix (founded in 1854 and based in Paris and Lyon), specialized in the production of upholstery fabrics, tapestries and carpets, also worked with Yvonne Fourgeaud on a number of carpets. Her designs featuring floral and abstract motifs closely reflect the fashions in France in that period.
Gallery Moshe Tabibnia is internationally renowned for their activity in the field of antique textile art, and has become a reference point for major collectors around the world. Boasting more than twenty-five years of activity steered toward searching, acquiring, studying, and promoting antique textile artefacts. The gallery stands out for having fostered scholarly research in collaboration with universities and other institutions in Italy and abroad. Another distinctive trait of the gallery is their commitment to sharing a knowledge of textile art.
Mostre
Artisti